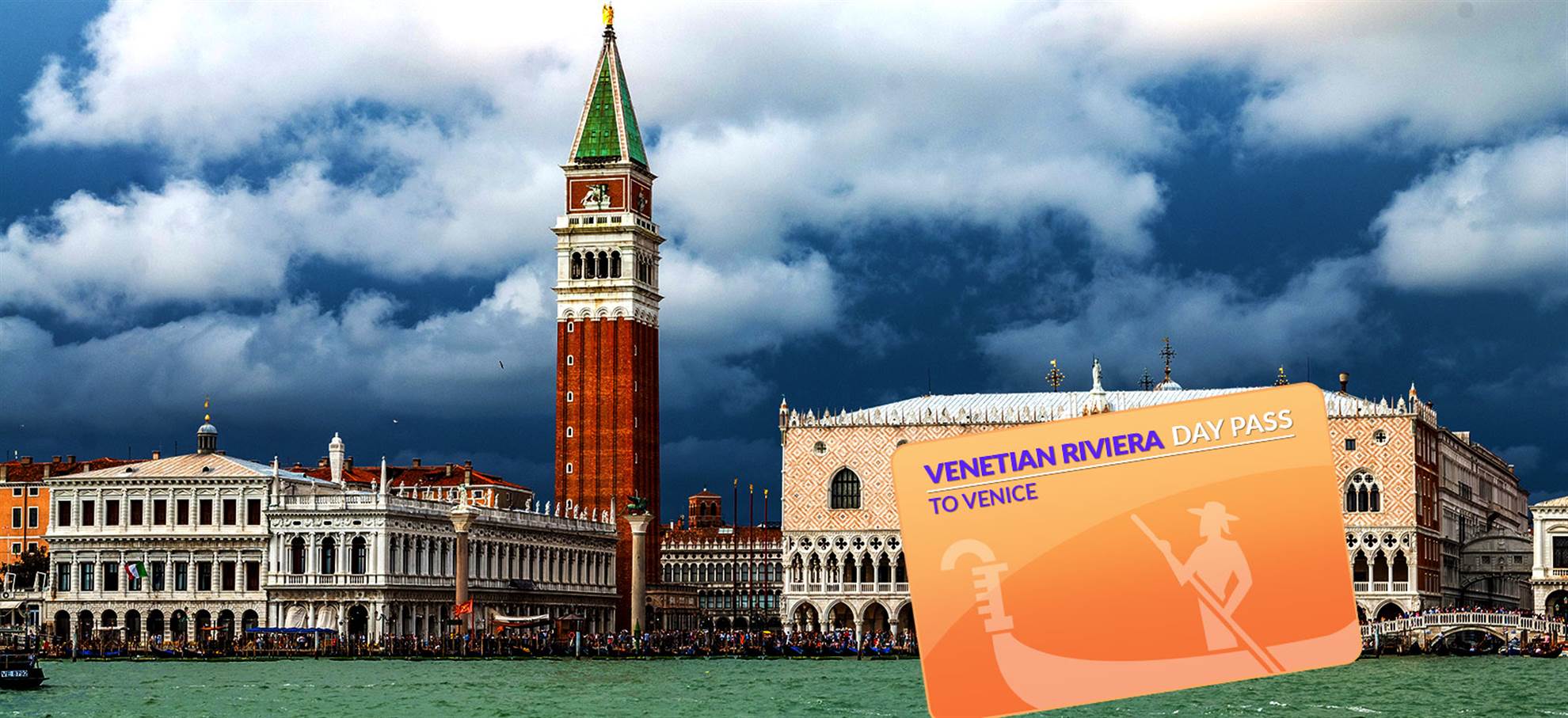 Venetian Riviera Day Pass to Venice
To product
Includes: skip the line tickets for the Doge museum, a parking spot in the city centre, hop on hop off cruise ticket valid for 1 day and 20% discount on everything you want to visit in Venice (take a gondola ride or a walking tour through the city!)
For many Venice does not need an introduction. The city is one of the most popular cities to visit in the world. So many highlights which are a must to visit like the many canals, San Marco Square, the carnival and so much more!
A lot of people who are enjoying their holiday around Venice often take the effort to travel to Venice for a day or more. But Venice is a hectic city as well. There are many waiting lines for museums while you only have limited of time. Attractions are not located on walking distance. Traffic is hectic and parking expensive and difficult to find.
We have found the solution for that with the Venice Riviera City Pass to Venice! Maximize your precious time for your visit to Venice by organizing everything in advance. Simply order your Venice Riviera City Pass online and you're ready for all that this wonderful city has to offer:
• Skip-the-line entrance to the amazing
Doge Museum
•
Park your car in the city centre
of Venice
• See more of Venice with the
Hop on Hop off Cruise
which stops at the biggest highlights of Venice while you are cruising through the Canals
•
20% discount
on everything you want visit in Venice
How does it work?
1) Select the date you want to travel to Venice.
2) Select the amount of adult and children.

What is important to know?
You can determine your own schedule. The Venice Riveira City Pass includes open tickets for the Doge Museum so you can decide what time to go. The parking spot will be close to the Port of Venice so the most logical would be to start your trip with the Hop on Hop off Cruise. The cruise will will also stop at Tronchetto, Murano, Zattere and San Marco. At San Marco you can hop off to visit the Doge Museum.
The Hop on Hop off Cruise also stops all day at the port of Venice so if you feel like going back to your accommodation you can take the bus or car to get back to your accommodation.
After your reservation we will inform you about the procedure and the exact location of the parking garage, we will inform you how it works when you skip the line at the Doge Museum and where you can find the Hop on Hop off Cruise.
You will also get a discount code of 20%. So you can purchase the tickets for the Gondola Ride or an excursion. You can find the list with discounts that you can acquire beneath.
What is included?
• Skip the line tickets for the
Doge Museum
•
Hop on Hop off Cruise tickets
valid for 1 day with audioguide in many languages
•
Parking spot
valid for the entire day in the city centre
•
20% discount
on everything else you want to visit in Venice
Advantages:
1. Everything will be send by email.
2. You will skip the line and save a lot of time which you can spend enjoying Venice
3. You will save a lot of money
4. No stress in Venice but use Hop on Hop off Cruise tickets to hop on and off at the highlights you want
5. Start your city trip relaxed: park your car in Venice and don´t spend hours to find a parking spot
What else is important to know?
Please wear appropriate clothing in Venice so you are able to visit the Doge Museum. These are monuments with clothing restrictions and they will ask you to leave when your clothing is not appropriate.
The Venice Riviera City Pass is everything you need for your visit in Venice!
Discounts - Venice

Island Boat Tour
Gondola Ride
Ca´ D´Oro Gallery
Ca´ Rezzonico
Accademia Gallery
Gondola Serenade and Dinner
The Three Island of the Lagoon
City Tour of Venice
The Golden Basilica
Photography Tour
Wine Tours
Gastronomic Tour to Friuli